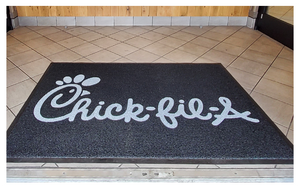 Why you should have a custom mat for your business!
Personalized mats at your company's door step are a way of showing the visual identity you are looking for.
The visual identity of a company is an essential tool for the formation of its brand. Customers will recognize your company/brand by the identity you offer them. Often, logos are the first thing people judge when looking at a company. Showing it off in the right way makes it easier for people to identify your brand. 
Having our mats at your door ensure it's the first thing people see, helping set you apart from basic, non inviting entry ways. 
We are able to fully customize your logo or custom design, giving you access to several color options and sizes.
---